When it comes to Business Promotion, there is no one-size-fits-all approach. There are many types of Marketing companies having Pros and Cons. For example, while the In-house Marketing teams bring insider knowledge, the Promotion Agencies bring external expertise and leverage creative campaigns.
So, if you are confused between the full-service Promotion Agencies and In-House Marketing teams, read this blog post to explore the Pros, Cons, and FAQs of both options.
Additionally, explore our Innovative Promotion Services at JR Promotions – Cape Town, South Africa. We add a WOW factor to below-the-line Marketing approaches and make them super exciting with the help of creative promotional elements.
What are Promotion Agencies?
Promotion Agencies are unsung heroes of the Marketing world. These companies are external partners, combine their efforts with third parties, and work for multiple brands simultaneously. They use creativity, expertise, and modern technologies to promote the products/services of a brand, for example, digital promotions, public relations, content marketing, social media promotions, and Event Marketing.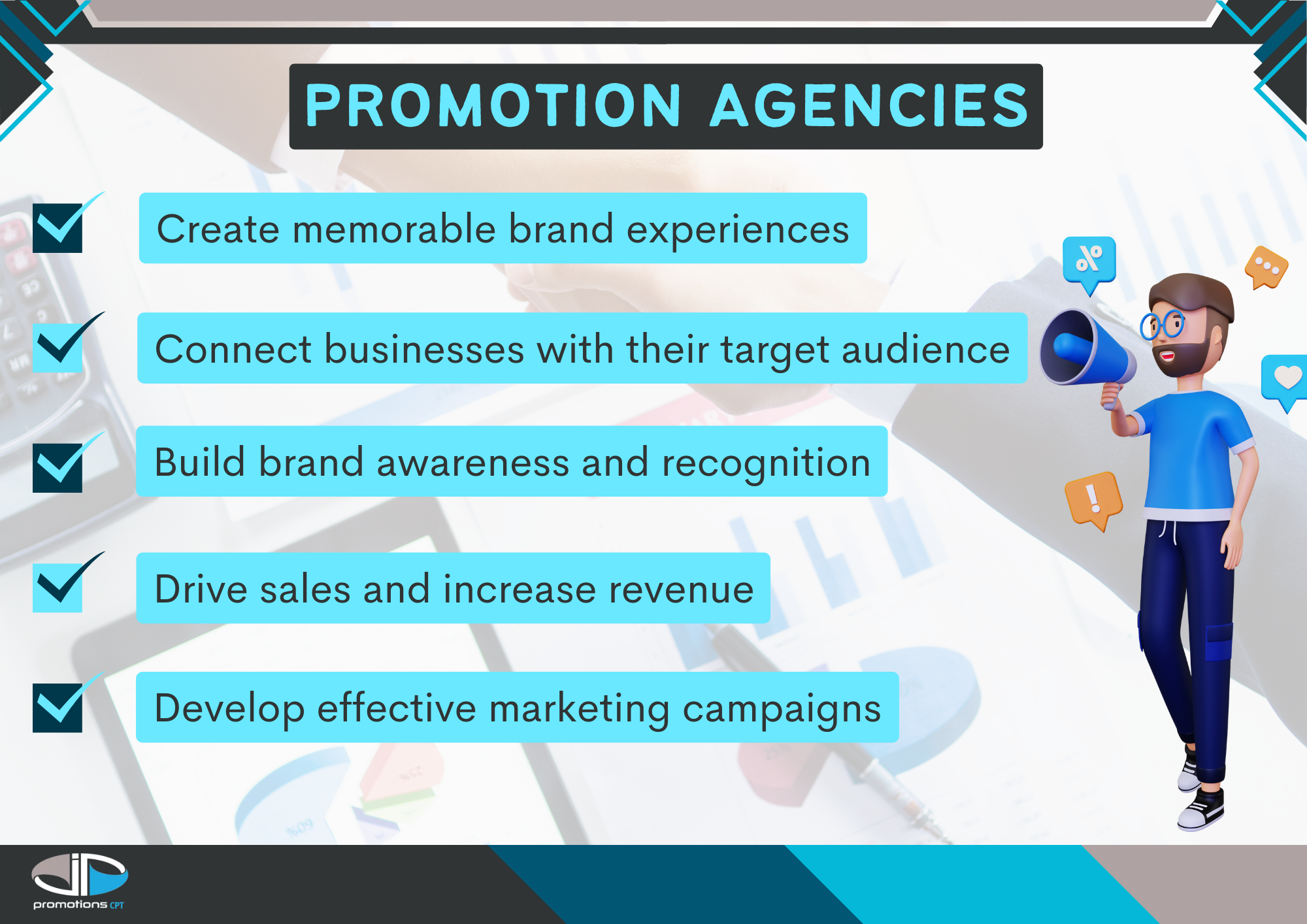 The Promotion Agencies work closely with their clients, identify their goals, and develop strategic plans to achieve them. The benefits of working with such companies include expert advice, valuable resources, and conservation of time.
Pros and Cons of Promotion Agencies
Promotion Agencies have a wealth of resources to complement your brand's requirements. However, here are some Pros and Cons of these agencies:
Pros
Specialized Skills & Expertise
Promotion Agencies often have a team of professional people who specialize in different Marketing fields, for example, graphics design and in-store activations. It means such agencies can be a one-stop shop for your company's all promotion needs.
Flexibility and adaptability
Promotion Agencies offer many Marketing methods you can choose according to your brand's goals and needs. You may also customize their services for your budget and market conditions, rendering these agencies the most flexible in the industry.
Innovation & Fresh Perspectives
Promotion Agencies consider the ideas of their clients. In addition, they seek new perspectives through channels like social media and search engines, constantly updating their working approaches. So, they help companies break free from the traditional Marketing mentality and boost their Marketing potential.
Industry Trends and Insights
A full-service Promotions Company has access to the latest industry trends and tools. For example, they track the success metrics for their Marketing campaigns through online Tools. In addition, they use Social Media Engagement metrics to track brand awareness. Ultimately, Promotion companies evolve with the changing marketplace and benefit their partner brands in many aspects.
Cons
Potential Conflicts of Interest
Promotion Agencies work with multiple clients, and Consequently, they can mix up things and compromise on quality. However, this issue can get mitigated by conducting a thorough inspection and reviewing their portfolio before partnering your brand with these agencies.
High Costs
Promotions companies can be super expensive if your brand has a restricted budget set for Marketing and promotion. In addition to their initial costs, you may also need to cover additional expenses like travel, technology, and other materials.
Others
Some other cons of these companies are:
➡ Lack of communication
➡ Misunderstanding the Company's goals and Objectives
➡ Mismanagement of Promotion services
➡ Lack of Confidentiality
What is an In-House Marketing Team?
An In-House Marketing team is an internal group of professionals that handle a single brand's promotional activities. These Marketing teams do not outsource the tasks to third parties compared to the promotion agencies. In addition, an In-house Marketing team is all-inclusive and consists of specialists like Graphics Designers, Content marketers, and others.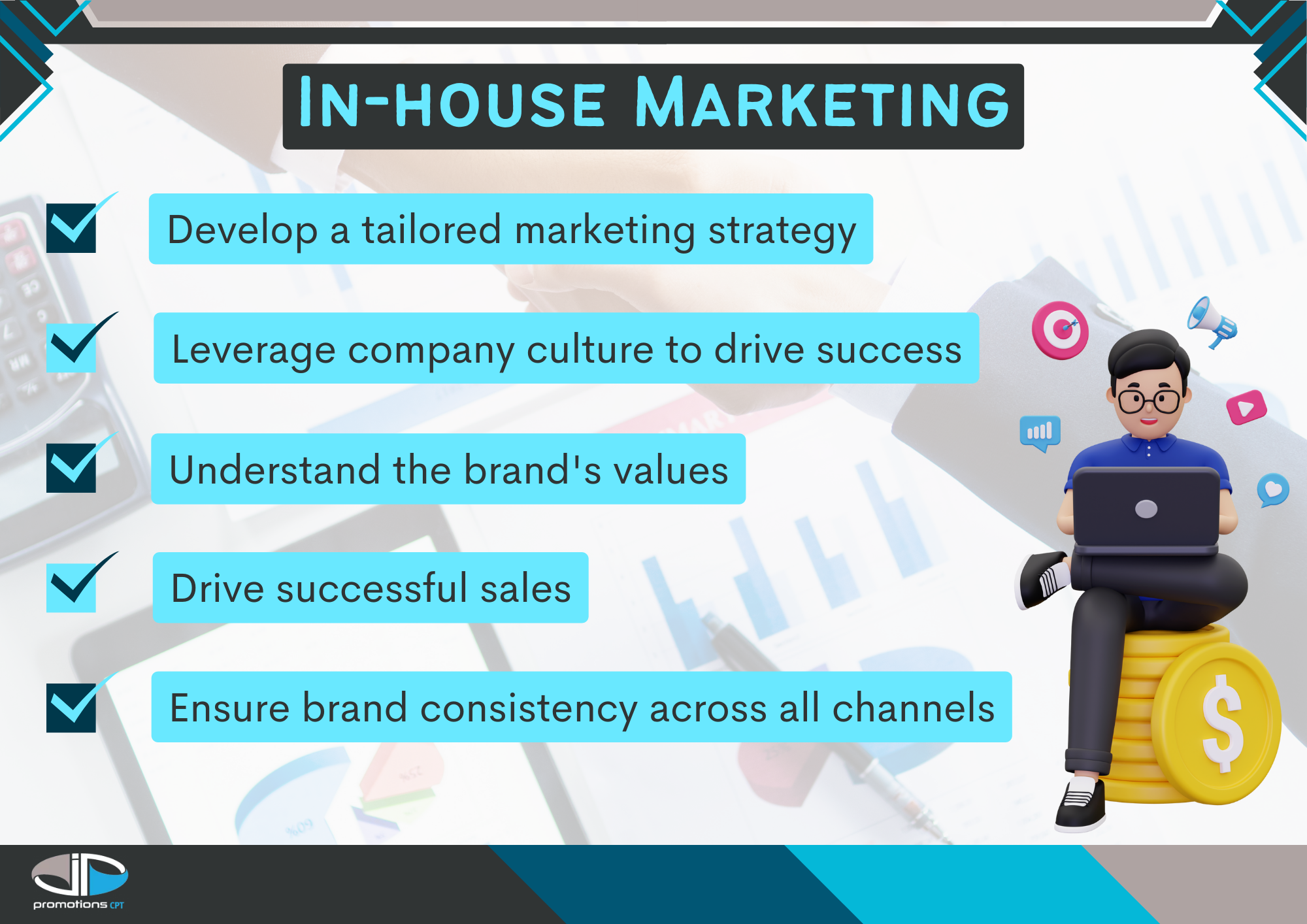 The primary responsibility of an In-House Marketing team is to achieve the company's goals according to the brand's culture and values. In addition, these teams focus on increasing brand awareness, generating leads, and driving revenue growth for a business.
Pros and Cons of In-House Marketing
In-House Marketing also has pros and cons. Here are some of them:
Pros
Exclusive Access
Because these teams work with a single brand at once, they have complete details about a company. It helps them tailor successful Marketing campaigns that align with a company's culture and goals.
Better Communication
Because an In-house Marketing team works closely with a brand, they have better communication skills than the Promotion Agencies. These teams decide and coordinate every promotional task with their client company. It helps reduce errors and increases the execution speed of a Marketing campaign.
Better control and Execution
In-House Marketing teams have a lot of valuable insider details about a company. They use these insights and develop strategies that get executed smoothly. In addition, these teams only focus on a single brand, so they have the time to target the Market trends. They adapt quickly to the latest advancements and execute better campaigns.
Long-term relationships
In-House Marketing targets long-term relationships with clients and companies. For this reason, they execute consistent and engaging campaigns for a brand, boosting repeat business and customer loyalty.
Cons
Limited Skills and Expertise
Since In-House Marketing teams do not outsource the tasks and remain confined to the team members, their skills are limited. It can result in repetitive promotional experiences and mismanaged campaigns.
Less Flexibility
Compared to Promotion Agencies, the In-House Marketing teams are not so flexible in budget and Marketing services. It means their client companies can be locked in a certain level of Marketing spend, and ultimately it becomes a constraint in their business success.
Burnout
In-House Marketing teams have fewer chances of professional growth and knowledge when compared to Promotion Agencies. They remain fixed in a specific marketing schedule and burn out quickly.
More Expensive
An In-House Marketing service requires extra costs other than the Marketing services, for example, team member salaries, training costs, and additional fees. Eventually, they get more expensive than the Promotion Agencies that only charge promotional services.
Factors to Consider when choosing between Promotion Agencies and In-House Marketing
When deciding between Promotion Agencies and In-House Marketing, there are many factors to consider. Here are some of them:
✔ Determine your brand's Goals and Objectives. It will help you decide whether you need a full-service promotions agency or an In-house Marketing team.
✔ Look for the relevant Experience and Expertise of the Promotion Agencies & In-House Marketing teams. Be Transparent & ask them if they have previously worked with a company similar to your brand.
✔ Consider the cost differences and select the option that resonates with your brand's budget.
✔ Compare the Control factor between two choices. Usually, In-house Marketing teams offer more control over the campaigns when compared to Promotion Agencies.
✔ Consider the Scalability of your business. Ideally, if your brand is continuously expanding, you should work with a Promotion Agency because they outsource the tasks and do not need to hire and train people. On the other hand, an In-House Marketing team would need to hire and train specific people to scale up your brand.
✔ Think about the tools and Resources you need for your brand. Usually, Promotion Agencies offer more advancements than In-House Marketing teams.
FAQs
What are the six functions of promotion?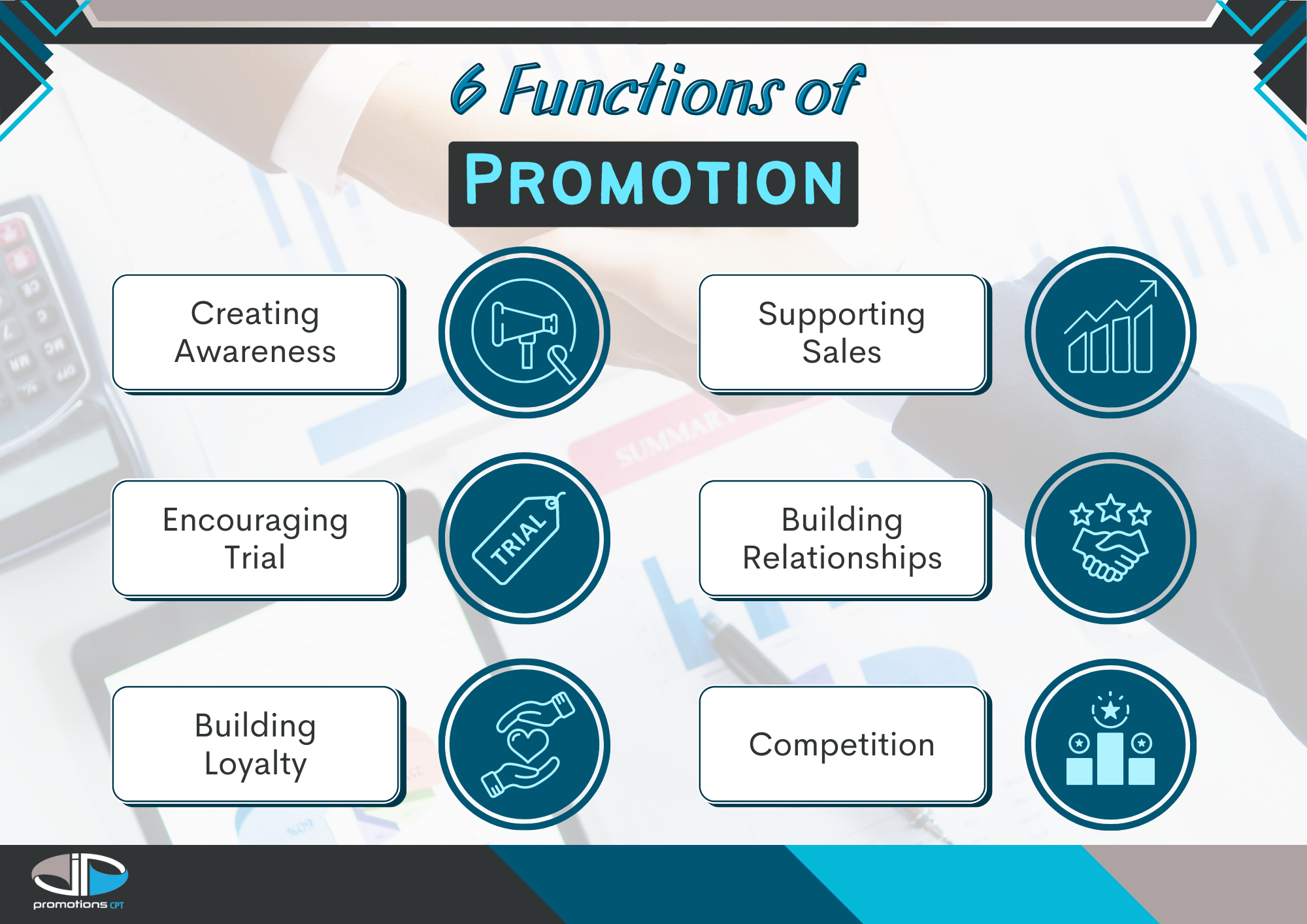 What is the goal of promotion?
The main goal of promotion is to create awareness, engage customers, and drive sales for a brand. It is the main component of Business Marketing and uses various channels to promote a product or service, for example, retail store and Social Media Promotion.
What is in-house vs. out-of-house marketing?
In-House Marketing refers to the process of having a professional team internal to a Marketing company that works on promoting a brand. On the other hand, Out-of-House Marketing means outsourcing Marketing tasks to related Agencies or Talented Individuals.
What Services Does a Promoter Agency Offer Compared to In-House Marketing?
When it comes to product promotion, hiring a trusted product promotion agency can provide several advantages over an in-house marketing team. These product promotion agency experts you can trust offer a range of services including market research, strategic planning, creative content development, digital advertising, and campaign management. Their expertise and specialized knowledge in product promotion can help businesses reach wider audiences and achieve better results.
To Conclude
Ultimately, selecting between the Promotion Agencies and In-house Marketing depends on factors such as Company Sze, Budget, Resources, Marketing goals, objectives, and available Talent.
While Promotion Agencies provide Diverse promotion services and fresh perspectives, they also have grey areas. On the other hand, In-House Marketing teams may provide you with specific services – but cannot take on the complex Marketing challenges. Therefore, assess all the factors while selecting between these two choices.
Lastly, Thank you for reading. And if you are looking for the best Promotion Companies in Cape Town, save time by clicking here.