A Promoter Agency is the unsung hero behind an extraordinary event or campaign experience. These agencies amplify the voice of artists, crafting narratives that inspire and engage audiences.
So, this blog post by JR Promotions (Cape Town) will take on an exciting journey through the bustling life of a Promoter Agency, revealing the careful planning, innovative Marketing, and smooth execution that transforms ideas into incredible spectacles.
From selecting artists to managing the unexpected, JR Promotions will help you explore the dynamic backstage chaos that showcases dedication and creativity, defining a day in the life of a promoter agency.
What is a Promoter Agency?
A promoter agency is a company that provides promotional and marketing services to clients. These agencies help brands and individuals create, design, plan, and execute campaigns to generate interest, increase awareness, and drive engagement for products, services, events, or ideas.
Promoter Agencies make the most of their expertise in various promotional channels, like public relations, advertising, and digital marketing, to achieve the best outcomes for the clients.
Key Players and Roles in a Promoter Agency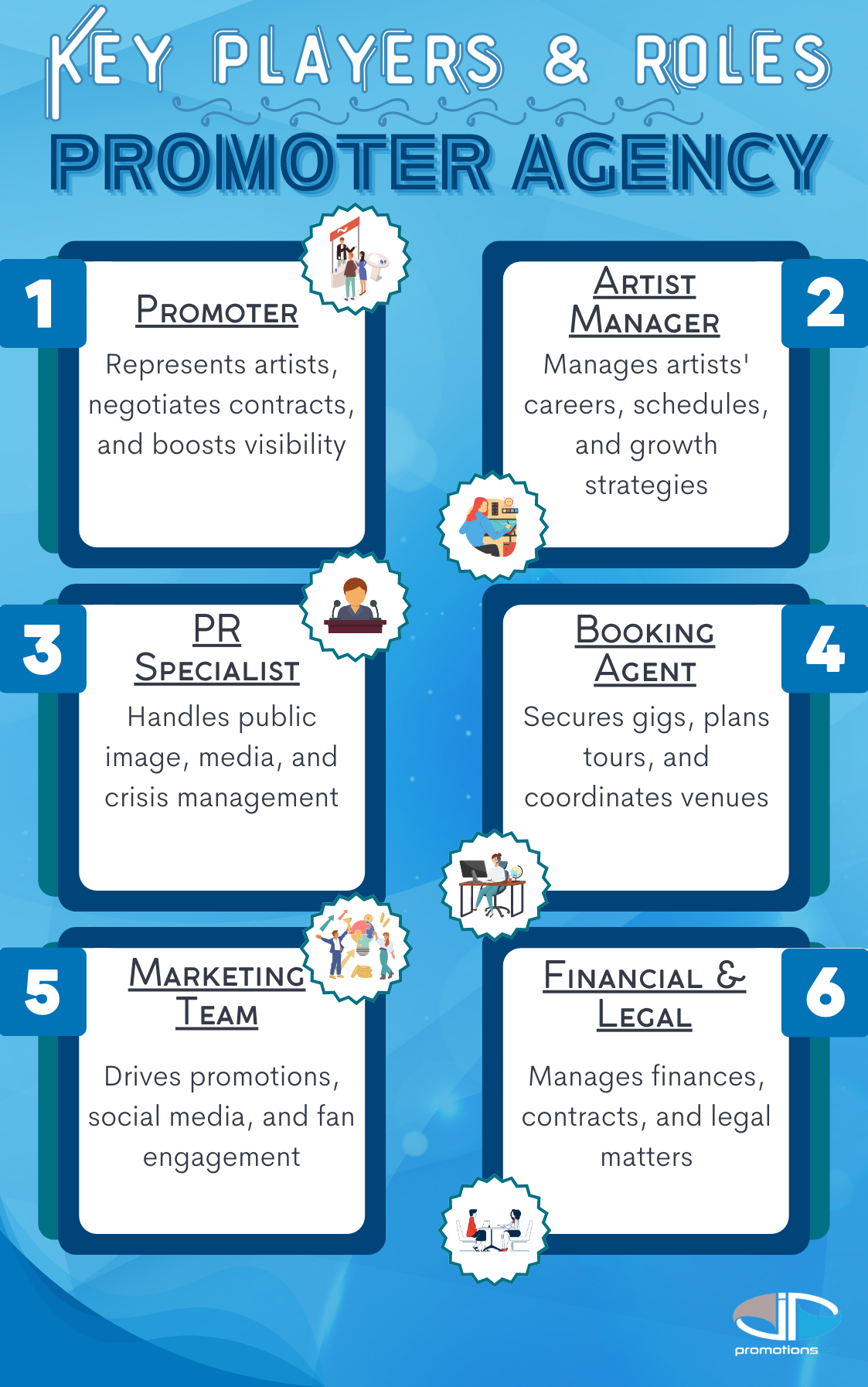 Preparing for Upcoming Events
In this phase, the promoter agency begins preparing for upcoming events. This phase involves multiple steps.
First, they identify potential venues aligning with the event's theme and requirements. They negotiate the prices, secure the event venue, sign the contracts, and finalize the dates.
Next, the creative team members conceptualize the event's design, theme, and overall ambiance. They brainstorm ideas for lighting, decorations, and other elements.
Lastly, the team works on logistics, i.e., arranging transportation, catering, and audio & visual equipment, plus ensuring everything is in place to execute the event without any hassle.
The Behind-the-Scenes Team: Roles and Responsibilities
Behind every successful event is a skilled and multicultured team, each member with their own responsibilities.
Event planners organize and coordinate all the details, from scheduling to vendor management.
Marketing experts make strategies to promote the event and attract customers. Creative members handle design elements, while technical experts manage the audio, visual, and technological aspects.
Moreover, there are brand ambassadors, budget managers, logistics coordinators, and on-site personnel who handle different tasks during the event.
Collaboration & communication among team members is essential for hassle-free event execution.
Event Day: The Hustle and Bustle
On the event day, the venue transforms into a bustling hub of activity.
The Promoter Agency's team arrives early to set up everything – decorations, stages, seating arrangements, and technical equipment.
Final trials get conducted to ensure that sound systems, lighting, & visuals are working perfectly.
When the guests arrive, the team starts managing check-ins, ushering, and any last-minute adjustments.
Throughout the event, all the team members work relentlessly behind the scenes to handle any abrupt setbacks that may arise, ensuring that guests have a memorable and enjoyable experience.
Navigating Challenges
Even with careful planning, events can have unexpected challenges, like technical glitches, weather changes, and vendor hiccups.
The agility of the promotional staff shines during such moments. They solve these challenges through quick thinking, adaptability, and effective communication.
Team members collaborate to find solutions and ensure the event continues without disruptions. Their ability to solve these unforeseen challenges contributes to the smooth execution of the event.
After the Curtains Close: Post-Event Wrap-Up
Once the event ends, the work is not over. The team comes together and assesses the success of events.
They analyze attendance, take feedback from the audience, sponsors, and vendors, and review financial outcomes against the initial event's budget.
This comprehensive event evaluation provides detailed insights into what worked well and areas that need improvement. It helps develop future event strategies enhancing the agency's overall working process.
The Continuous Cycle: Preparing for the Next Event
As one event wraps up, the promoter agency begins working on the next one.
They learn from previous events and implement that learning to enhance future endeavors.
The team brainstorms new concepts, innovative ideas, and strategies to make future events more exciting, successful, and error-free.
This improvement phase involves redesigning the planning process, updating marketing strategies, & collaborating with new vendors and partners to create a fresh and catchy experience for future event attendees.
The continuous cycle ensures that the promoter agency remains lively, dynamic, and always ready to create exceptional events.
Importance of Team Work in a Promoter Agency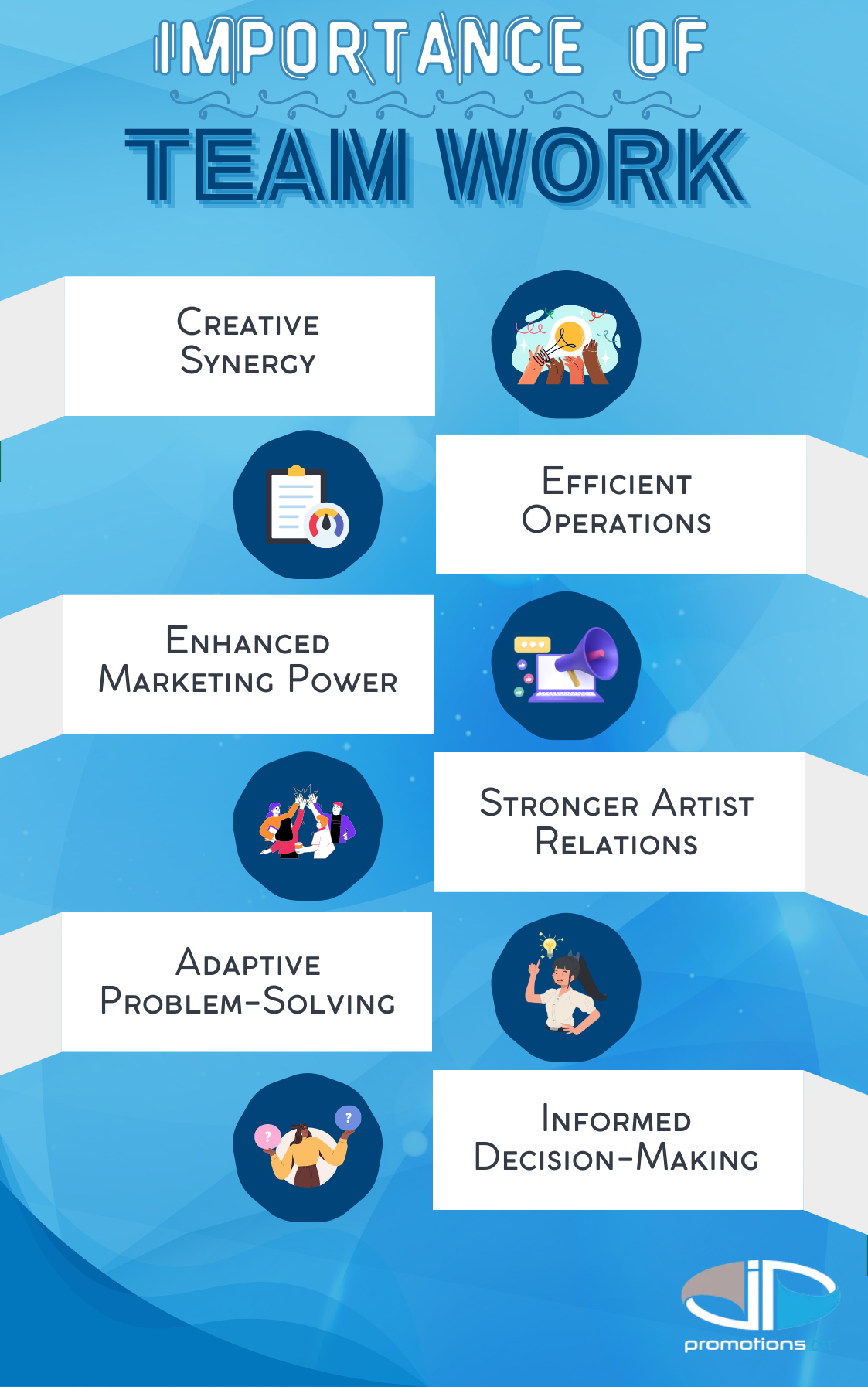 Frequently Asked Questions (FAQs)
What does a promoter do?
A promoter's responsibility is to generate interest and visibility for an event, product, or idea.
These promoters or brand ambassadors use various marketing & communication strategies to attract target audiences, build excitement, and drive participation or sales.
They use different platforms, such as advertising, and social media public relations, to create buzz & ensure successful outcomes for their projects.
Is being a promoter a job?
Yes, being a promoter is a job. Promoters are individuals or entities that promote & market products, services, events, or concepts. They use their marketing, advertising, and communication skills to generate interest and attract audiences.
How do you become a product promoter?
To become a product promoter, you need a good understanding of marketing & communication strategies.
Get relevant education or working experience in marketing, public relations, or a related field. Develop skills in advertising, social media management, and event planning.
Build connections with industry professionals, build a portfolio showcasing successful promotions, and seek new opportunities to work with brands/companies that need your promotional services.
Can anyone be a promoter?
Anyone can become a promoter, but success often depends on having effective communication, marketing, & networking skills.
A promoter has to attract target audiences, create compelling campaigns, and use various promotional channels. This phase requires dedication, creativity, and strategic thinking, making it easier for individuals with relevant expertise and knowledge in promotion and marketing.
What Does an Expert Promoter Agency Do to Boost Marketing Campaigns?
An expert promoter agency plays a crucial role in the success of marketing campaigns today. With their expertise, they implement strategies that effectively boost marketing campaigns. By utilizing various channels, analyzing target audiences, and creating impactful content, these agencies ensure maximum exposure and engagement for businesses. With their assistance, companies can achieve their marketing goals and increase brand visibility. Boost marketing campaigns today by partnering with an expert promoter agency.
To Conclude
In conclusion, we covered all the intricate details of creativity and logistics that fuel the heart of a promoter agency.
From planning to execution, the symphony of teamwork, innovation, and commitment plays a significant role in creating experiences that linger in your memories long after the events end.
So, the next time you see a captivating performance, take a moment to appreciate the unsung heroes of a Promoter Agency.
Thank you for reading!